Anti-Lock Brakes for 2010 Volkswagen CC
No.
Part # / Description
/ Price
Price
Axle Bolt
Axle Bolt, Left
312mm. Awd. Without r, 1.8L, auto trans. To 06/11/2018.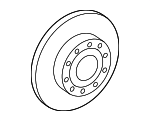 Rotor Front
Rotor, Left
310mm. 310mm Dia. A single Disc brake Rotor. All Wheel Drive 310X22mm. From 10/10/2016. Front Wheel Drive 310X22mm. Part has related component that cannot be reused/ reinstalled; screw. Performance Package. To 10/09/2016. Fits Arteon, CC, e-Golf, Golf, G ...
Bleeder Valve
Bleeder Valve, Right
With performance brakes. Without link suspension. Without awd, without e-Golf. 2021-22. 312x25 mm. Fwd. Without awd, 286x12mm. Without r, to 10/2009. Sedan/wagon, with 260mm rotor. From Chassis/VIN 1C-7-512 081.
Caliper Mount
Caliper Mount, Right
With awd. Incl.Disc Brake Caliper Guide Pin.
Splash Shield
Splash Shield, Left
Passat. Left. CC. With awd. R32.
Brake Line
Brake Line, Right
Fwd. Without awd, 286x12mm.
ABS Sensor Wire
ABS Wheel Speed Sensor Wiring Harness, Rear left
With awd. HID Headlights. To Chassis/VIN 3C-9-505 000.
Related Parts
Part # / Description
/ Price
Price
Discontinued